Canada's first certified Autism-friendly airline.
On June 15th, we awarded our Autism Double-Checked certification to Flair Airlines.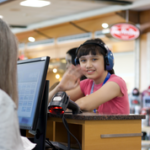 For over a decade flair operated as a charter carrier before transitioning to scheduled service in 2017. To consistently offer affordable air travel to Canadians – with a fleet that now includes a Boeing 737-800 – flair is focused on key airports, with its main transfer hub in Edmonton and a network that supports seasonal demand.
In order to become certified, they had to do two things:
All staff, that is pilots and flight attendants have been through training for Assisting Guests with Autism.
With help from us, Flair have produced a Passenger Guide for assisting autistic guests when flying with them. It provides all of the information that parents or caregivers need in order to plan a successful flight. Click here in order to download that guide.
 In addition to Flair Airlines staff, a number of staff from Edmonton International Airport, staff from Global Aviation Services and even from Autism Edmonton, all took and passed our course so that they could assist Flair with passengers at Edmonton Airport.
 Congratulations to Flair Airlines, their wonderful staff and partners.
Before and after the awards ceremony, Flair operated an Autism Aviators practice boarding sessions at their terminal. Autism Aviators is a program that was originated by Autism Nova Scotia.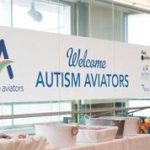 Families came along, checked in, went through security and waited for their "flight". Then they boarded the aircraft, took their seats, listened to the announcements and enjoyed a snack and beverage service before deplaning.
On deplaning, families rejoined the volunteer buddies who had helped them prior to "departure". At times these reunions were as joyous as a family reunion.
There was a little boy who had been described by his parents as non-verbal. After a couple of minutes in his window seat, watching the activity on the ramp, he turned to his parents and excitedly declared "This is really cool!". His parents were amazed, and delighted.
A father of a teenage boy told a Flair representative that they have always been unable to visit family in Vancouver because it was too far to drive and they hadn't wanted to fly. After the event, and with a huge smile, he said "Today's experience has changed everything. Now my son can't wait to fly."
The event was so successful that Flair are planning to offer the program again in the fall at Edmonton (YEG), and at other gateways.
Here is a small photo gallery: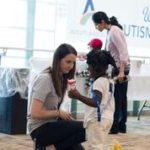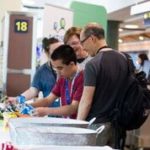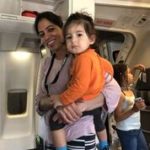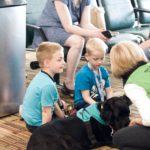 For more information, please visit www.flyflair.com.
Our next post: Avoiding Crowds.