One of the biggest factors affecting your choice of where to take your vacation is going to be whatever your answer is to the question of how are you going to get there.
How so? If you are willing to fly and believe that your loved one can do so successfully, you can get pretty much anywhere. You have infinite "range". Subject, of course, to a couple of the thoughts below.
If flying is out of the question, you'll probably opt to go by car. If your child is successful riding locally in your car, you know that this will work. However, if their total experience has been just local, you may want to try a longer ride or two beforehand so that you know that this works as well as the local rides do.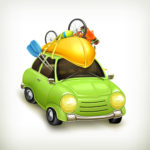 This does still leave you with a restriction on your "range". Even with days and days of back-to-back drives, you still need to arrive back at home and, therefore, may not have reached anywhere too far away. Don't be discouraged. If this is the option that works for you, you can still include activities that your child "must have" (see our prior post: where to go – part 1) and make it a wonderful vacation.
You could do a fly-drive vacation. That is to fly somewhere, rent a car and then make the rest of the vacation a road-trip. Of course, this does still contain the need to fly successfully.
There is a reason to fly and drive even if it isn't for a fully-fledged road-trip. Although we said above that flying gives you infinite possibilities, you will still do better if you restrict yourself to non-stop flights. (see our prior post: eliminating unnecessary transitions).
Rather than taking a second flight, is that leg of the journey drivable? At the very least, you'll be in control of this part of the journey rather than being at the mercy of catching up with a missed connection.
You could go by rail but need to think long and hard before going with this option. It has many of the disadvantages of flying. Think crowded airport versus crowded railway terminal. It has a distinct disadvantage. It is much slower than flying (even if it is faster than driving.)
Another big factor affecting your choice is going to be whatever your answer is to the question to who is going with you.
If you read one of our prior posts, who is coming with you, and you are taking the advice that we gave there, you'll have to consider the other people when determining what everybody wants to do at the chosen destination.
This may require some compromise. If they are into mountain biking and you are looking for R&R on the beach, something has to give. But compromise is possible given some goodwill and if everybody is aware of what it takes to make it right for your child.
For instance, suppose your friends' idea of perfection was a city stay so that they had museums, theater and dining all readily available.  You would like sea and sun. Now start looking at seaside destinations and look to see do they have any nearby museums? community theaters? and a good restaurant scene?
You have a lot of planning ahead of you but don't forget that the better you plan, the better the result.
Our next post: Different Vacation Types.